Welcome!
The Jazz Drama Program (JDP) was founded in 2003 as a 501c3 non-profit organization by jazz musician Eli Yamin and teacher Clifford Carlson to get young people involved in and excited about jazz.  By commissioning new work, recording CD's and distributing scores and scripts and offering professional development for teachers and workshops for students, The Jazz Drama Program is building new audiences and stakeholders in the jazz arts through the mediums of storytelling, music, theatre, dance and visual arts.  To date, Jazz Drama Program musicals have seen over 75 performances in thirteen states and four countries literally involving thousands of young people and their families in sustained exposure and involvement in the jazz arts.
---
Mission:
The Jazz Drama Program inspires students, teachers and their communities by providing interactive experiences in the jazz arts –storytelling, music, dance, theatre and visual arts.
Vision and Activities:
The Jazz Drama Program believes that providing high quality immersive arts experiences for young people and their communities is transformative and essential to their emotional, intellectual, spiritual and physical well being and the well being of society.
The Jazz Drama Program:
Creates original jazz theater works that tell stories children can relate to.
Shares new pedagogical practices in the field of jazz arts and drama education.
Fosters children's increased perception and performance in all areas of life, including school and community, through its productions.
Produces and disseminates recordings, scripts and scores to support workshops and productions of its jazz theater works.
Allows professional musicians and choreographers, as well as set, costume, sound, and lighting designers, to mentor children in these areas.
Facilitates professional-level educational development of teachers, music educators and other supporters through instructional materials and directed activities.
Promotes the enjoyment and appreciation of the jazz arts as a path to personal growth and joyful expression throughout all stages of life.
The Jazz Drama Program illuminates the value of jazz and jazz musicians as a continuous source of inspiration in our society.
"Jazz Arts for a Better World"
---
Latest News
Photos from Nora's Ark Production in Poland
Here are photos from the Arka Noemi (Nora's Ark) production in Poland.
Here is a short video about the production.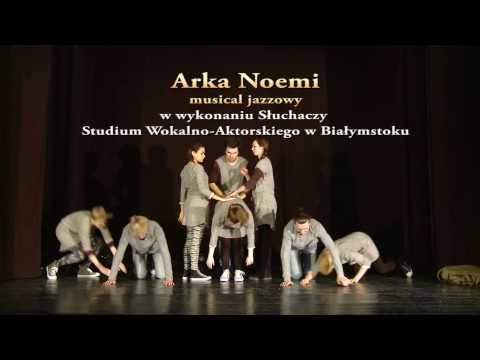 Photos from the Third Jazz Drama Vocal Workshop
Here are photos from the third free Vocal Workshop that was held on Monday, March 31, 2014 for singers ages 10-17 with Eli Yamin and Jeannette LoVetri at The Jazz Drama Program Studio.
Nora's Ark production at Helen Hocker Theatre in Topeka, Kansas
In the Helen Hocker Theater in Gage Park, a youth cast was in the production of the musical "Nora's Ark: The Jazz Musical.  "Nora's Ark" is a modern retelling of the biblical tale. Nora (Addy Mead), a scientist, foresees a planetary catastrophe of the poles melting and flooding Earth. She and her children decide to rescue the critters from the Bronx Zoo before the global warming-induced storm wipes out everyone.
Directed by Joanna Lassley, with musical direction by Daniel Denton and choreography by Sally Glassman of the Dorothy Thomas School of Dance and Theatre Arts, "Nora's Ark" incorporates blues, bebop and swing in songs that help teach lessons of freedom and cooperation in the ultimate struggle for survival.
Others in the cast are: Kaitlyn Bartlett, Payton Bolte, Mary Page Bramlett, Liz Emmert, Kelly Kychik, Emily Mead, Isaac Mead, Abby Musick, Hannah Ohlemeier, Matthew Stegman, Kate Storrer, Om Watson and Regina Woods. The orchestra includes: Alex Chanay, bass; T.C. Gomez, saxophone; Jon Lothenore, piano; and Nico Williams, percussion.
Adams Jenks designed the set and lights; costume design is by Laurie Uhler. Michael Duncan, assisted by Clare Emmett, stage-manages "Nora's Ark," which ran from March 21 through April 6.