Welcome!
The Jazz Drama Program (JDP) was founded in 2003 as a 501c3 non-profit organization by jazz musician Eli Yamin and teacher Clifford Carlson to get young people involved in and excited about jazz.  By commissioning new work, recording CD's and distributing scores and scripts and offering professional development for teachers and workshops for students, The Jazz Drama Program is building new audiences and stakeholders in the jazz arts through the mediums of storytelling, music, theatre, dance and visual arts.  To date, Jazz Drama Program musicals have seen over 75 performances in thirteen states and four countries literally involving thousands of young people and their families in sustained exposure and involvement in the jazz arts.
---
Mission:
The Jazz Drama Program inspires students, teachers and their communities by providing interactive experiences in the jazz arts –storytelling, music, dance, theatre and visual arts.
Vision and Activities:
The Jazz Drama Program believes that providing high quality immersive arts experiences for young people and their communities is transformative and essential to their emotional, intellectual, spiritual and physical well being and the well being of society.
The Jazz Drama Program:
Creates original jazz theater works that tell stories children can relate to.
Shares new pedagogical practices in the field of jazz arts and drama education.
Fosters children's increased perception and performance in all areas of life, including school and community, through its productions.
Produces and disseminates recordings, scripts and scores to support workshops and productions of its jazz theater works.
Allows professional musicians and choreographers, as well as set, costume, sound, and lighting designers, to mentor children in these areas.
Facilitates professional-level educational development of teachers, music educators and other supporters through instructional materials and directed activities.
Promotes the enjoyment and appreciation of the jazz arts as a path to personal growth and joyful expression throughout all stages of life.
The Jazz Drama Program illuminates the value of jazz and jazz musicians as a continuous source of inspiration in our society.
---
Latest News
The Fall Benefit Concert Flyer
The Jazz Drama Program Fall Benefit Concert Honoring Dorthaan Kirk
You are invited to join us for a special evening as some of the greatest musicians and educators in jazz come together to support youth involvement and transformation through jazz. The Jazz Drama Program hosts its 2014 Benefit Concert honoring Dorthaan Kirk at Mary Cary Flagler Hall at The DiMenna Center (450 West 37th St) in Manhattan, NY on October 7, 2014 at 6:30 PM.  Purchase tickets here.
The Jazz Drama Program 2014 Benefit Concert honors Dorthaan Kirk who is the face of WBGO and a tireless ambassador for the country's largest jazz station and for the music. For over 25 years she has been producing the WBGO Children's Jazz Series. She also produces Jazz Vespers at Bethany Baptist Church in Newark and Dorthaan's Place at the New Jersey Performing Arts Center.
"It is our great honor to celebrate the life and work of one of the leading jazz advocates and supporters of our time in Dorthaan Kirk of WBGO, Jazz 88, who has been tirelessly working to expose jazz to generations of children." says Artistic Director, Eli Yamin.
The evening's entertainment features the sensational vocalist Catherine Russell, the wizard of creole clarinet, Evan Christopher, and the Eli Yamin Trio. Award winning journalist and vocalist Rondi Charleston hosts this soulful journey of swing and blues with additional performances from Jazz Drama Program students performing highlights from the newly recorded Jazz Drama Program musical, Message From Saturn, about the healing power of the blues.
Catherine Russell, Evan Christopher and Eli Yamin will perform songs from Louie's Dream, a Jazz Drama Program release, which is dedicated to jazz heroes who inspired us all.
Wine, beer and hors d'oeuvres will be served and guests will have an opportunity to interact with the artists.
Admission is $150 (of which $100 is tax deductible).  The Jazz Drama Program is a 501(c)3 non profit organization.
See the Press Release
Photos from Nora's Ark Production in Poland
Here are photos from the Arka Noemi (Nora's Ark) production in Poland.
Here is a short video about the production.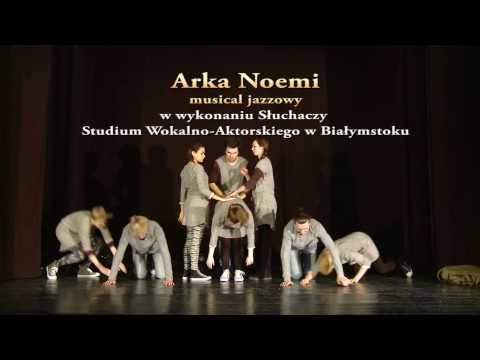 Building of a real Ark from recycled materials.